Stream from Anywhere to Everywhere

Small in Size, Big in Pro Capabilities
The industry's first REALLY All-IN-One live production system that doesn't require anything external. It's simple, portable, reliable and affordable.
Encoder, switcher, recorder, monitor, in One
Live switch up to 6 video sources
No computer/desk workstation required
Great ease to operate, touchscreen control
Super portable, fit into your pocket
Support 4G LTE & built-in battery - Live On the Go
Easiest Multi-Camera Live Streaming & Switching Setup? - YoloBox Review
What's New in the Yolobox 3.1 Update - Multicamera livestreaming made easier!
YoloBox vs YoloBox Pro: Current & Upcoming New Features
Stream Simultaneously to Multiple Destinations
Stream to Facebook, YouTube, and any other RTMP(S) websites at the same time to get more views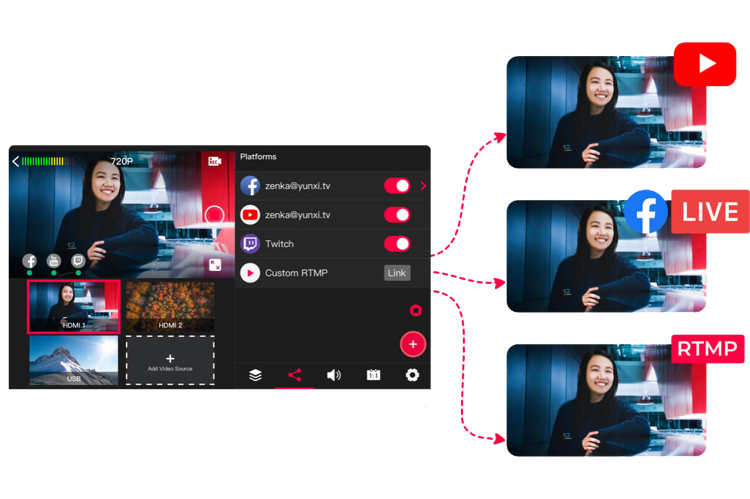 Add Video Sources From Local SD Card
Roll in pre-recorded video for intro, countdown, B-rolls or special segments.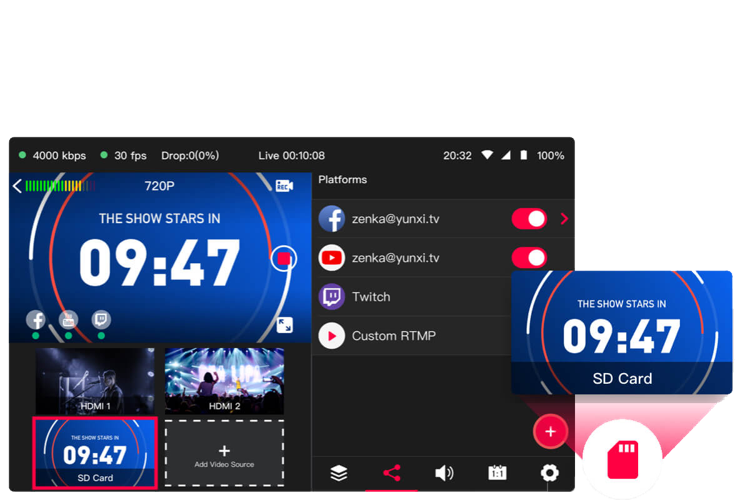 Load PDF as an Extra Source Locally
Enhance the storytelling by one extra source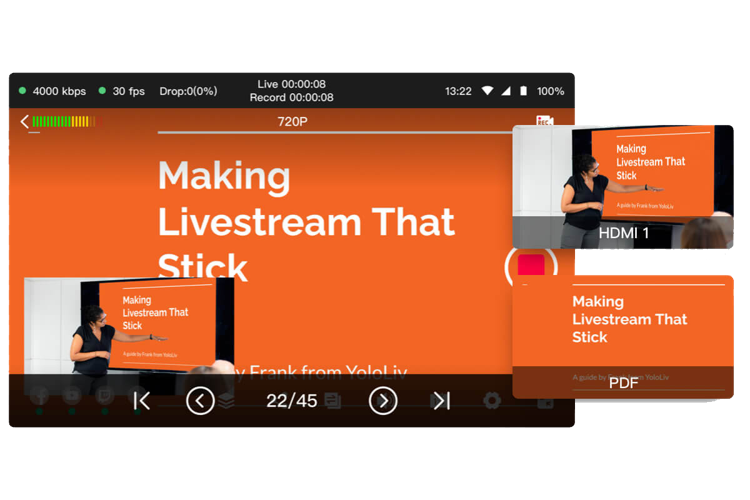 Brand Your Live Stream By Adding

 

Logos/Watermarks/Rolling Captions
An even more professional look with customized PiP options including Interview Mode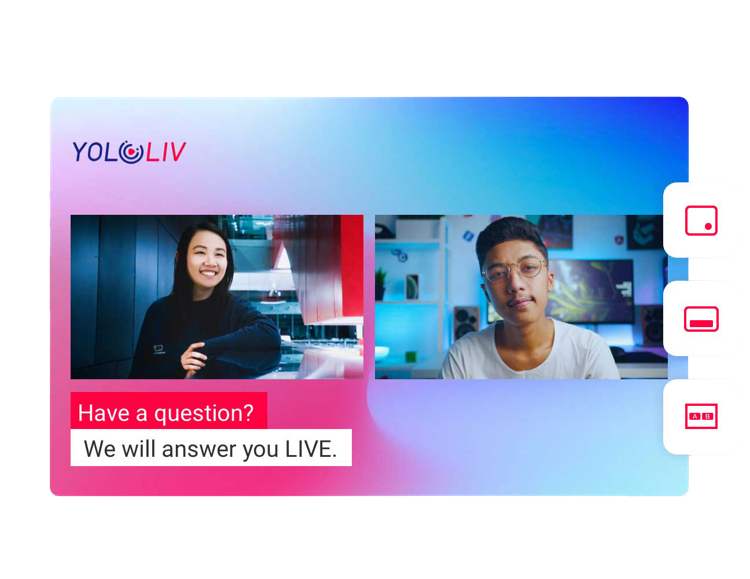 Feature Comment Overlays to the Stream
Engage with your audience in real time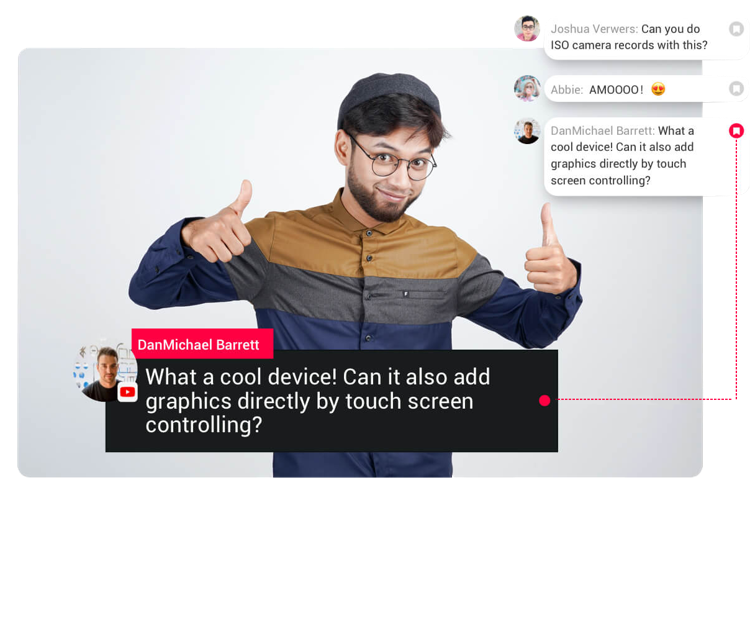 Add Customizable Scoreboard
Display real-time controlled scoreboard to make your game look professional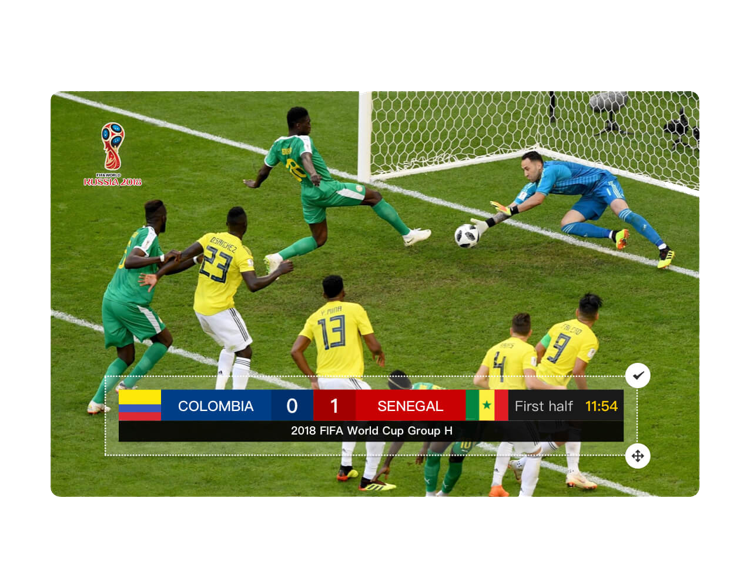 Add and Edit on the Built-In Lower-Thirds Templates
Be it an intro of the speaker or Call-To-Action messages to drive viewers' actions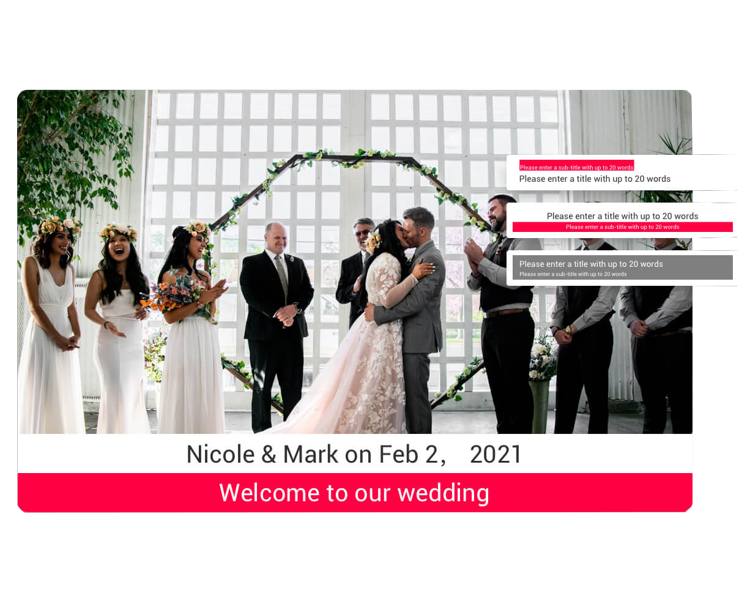 Specifications

Ports
Switcher with integrated encoder
2 HDMI IN: Video input
1 USB OUT: Video output
HDMI OUT: Video input
3.5 mm audio line in
RTMP
Record to an SD card or USB external drive
Ethernet: Connect to Internet by Ethernet cable
AUDIO IN: Connect with lavaliar microphone or mixer
TYPE-C: Power connector
AUDIO OUT: Connect with headphone for sound monitor
Sim Card Slot: Insert SIM Card to get into Internet
HOTSHOE: Mount YoloBox with camera
SD Card: Insert SD card for local assets
Power Button: Turn on and turn off
Dimensions and Weight
Length:185mm
Width:107mm
Height:19.5mm
Weight:480g
Encoded Format
Video Encoded Format:H.264
Audio Encoded Format: AAC (48k)
Video Recorded format: MP4
Audio Input Format: 32kHz, 44.1kHz, 48kHz, 16-bit
Video Input Format: 1080i/ 720p/ 1080p
Live Broadcast Resolution: 480P/720P/1080P
 
Video Storage
Storage Card Type: SD Card
Storage Card Capacity: Expanded to 128G
 
Network Connection
WiFi: 2.4G/5G, Support 802.11a/b/g/n/ac
4G Network Countries & Frequency Band
For US/Canada/Mexico Users:
B2/B4/B5/B7/B12/B13/B14/B17/B25/B26/B41/B66/B71
For Non-US/Canada/Mexico Users:
B1/B2/B3/B4/B5/B7/B8/B20/B28/B38/B39/B40/B41
SIM Card Size: Standard SIM Card
 
Power
Power Interface: Type C, Quick Charge 3.0
Battery Capacity: 3.7V/5700mAh
 
Transmission
Network Protocol: RTMP(S)
 
Working Environment
Operating Temperature:-10℃-40℃
Storage Temperature: 5℃-40℃
Shipping policy
1. Free shipping (except for some remote countries and regions)
2. Within working days, the received order will be processed by confirmation email within 24 hours.Orders on Saturday and Sunday will be shipped on Monday. 
3. The estimated delivery time: 7-21 days(The estimated delivery time in remote areas will be longer, and the specific estimated delivery time will vary according to different regions.)  Check out more on  Shipping policy
Refund 

policy

1.If you're not 100% satisfied or the items have quality problems within 7 days of the delivery date, we support return and exchanges. If the items have quality problem within 30 days, we support replacement.
2. For returned items or items for exchange, we will need 3-6 business days upon receiving your item(s) to process the solution.Check out more on Refund policy
5.0 out of 5 stars Such a covenant way to live stream my church services.
I had a little trouble with YoloLive at first, but since their latest update and a little learning curve it has worked flawlessly. I'm getting rave reviews from my audience. Would recommend this unit to any church wanting to enhance their live streaming at an budget friendly cost.
Excelente
Excelente producto, muy fácil de usar y súper práctico
It is very easy to use . for schools and churches weddings
I have a month with the box very good product to be live video with Facebook and youtube.It is very easy to use . for schools and churches weddings. for all occasions. i recommend this box.
Very Efficient Streaming Device
It has been evolving experience. I was there at the begin and saw how the team at Yolobox has changed the interface to make it more user friendly. The updates have been well thought out. I have great plans for this unit especially for live streaming through Facebook to promote local businesses. Having this device has made it easier for my company to livestream without having to have additional staff at locations. We can run a whole production from this unit without needing a computer.
Great device, definitely a contender to be considered!
What I really love about Yolobox is that the setup in my production studio is completed with this. I dont have to concern myself with subscription fees that come along such as other services. I create music and YouTube content on the fly and to be able to have a device that I control the visuals without having to pay someone else for this type of processing or support makes my productions go a lot more smoother.
It also meshes well with my theme of a cyber punk feel within my studio. I also really love the fact that it can be detected as another monitor on my iMac.
Another thing that I appreciate is the service support that comes along with this device, my time around the community has shown me that there is a lot of support and future updates being made with our direct insight considered as creators. The Yolobox is one of the greater investments that has performed well for what I needed it as a all in one tool for my social media broadcasting productions.
YOLOLIV YoloBox Portable Live Stream Studio Equipment Encoder Switcher Recorder Monitor
Shipping policy
1. Free shipping (except for some remote countries and regions)
2. Within working days, the received order will be processed by confirmation email within 24 hours.Orders on Saturday and Sunday will be shipped on Monday. 
3. The estimated delivery time: 7-21 days(The estimated delivery time in remote areas will be longer, and the specific estimated delivery time will vary according to different regions.)  Check out more on  Shipping policy
Refund 

policy

1.If you're not 100% satisfied or the items have quality problems within 7 days of the delivery date, we support return and exchanges. If the items have quality problem within 30 days, we support replacement.
2. For returned items or items for exchange, we will need 3-6 business days upon receiving your item(s) to process the solution.Check out more on Refund policy